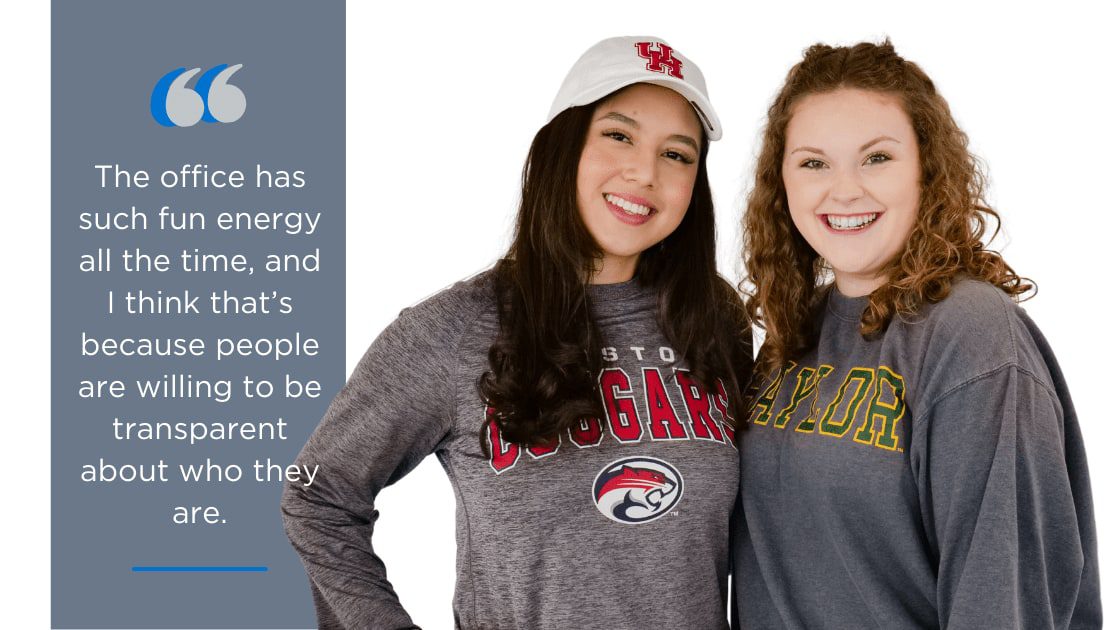 An Insight on Culture from two of our Summer Interns, Faith and Daniela, as they share their experience and explain how the culture here at Highpoint impacted their summer intern experience.
We learned the importance of communication, relationships, and teamwork, but it wouldn't have been the same without Highpoint's unique culture behind it all. We (Faith and Daniela) wanted to share our experience and explain how the culture here at Highpoint impacted our summer intern experience.
Faith Franklin, Baylor University 
Before I started my internship, I had so many people asking things like "are you excited for your internship?" and "what will you be doing over there in Friendswood?". It was hard to find an answer for both because I was more nervous than excited, and I had no idea what I would really be doing until I got there. A new place with new people and new roles can be intimidating, to say the least. However, as soon as I stepped into the office, a lot of those feelings rushed away.
Highpoint has a very unique way of showing and implementing acceptance. There was never a moment where I felt like I couldn't be myself around someone. The office has such fun energy all the time, and I think that's because people are willing to be transparent about who they are. I never got the feeling to be "work Faith" or "after 5 Faith"… just Faith.
There is also an incredible sense of optimism at the Highpoint office. I appreciated seeing a smile on everyone's face and a greeting from Dena each morning. I found it increasingly easier to ask questions or accept a mistake because there was always an optimistic response. There is endless support and passion behind each person who taught me many skills and answered all my questions.
Overall, I would describe Highpoint's culture in these 3 words: accepting, optimistic, and passionate.
Daniela Hernandez, The University Of Houston 
Adapting to a workplace environment is not the easiest task to overcome, especially for me. As an overthinker, it usually takes a considerable amount of time to be completely comfortable in a new setting. However, that was not the case during my time at Highpoint. Of course, I had jitters on the first day of the internship because it's my first day! I did not want to make a bad first impression from the start. So I went in a bit shy, not really talking the first few hours. What caught me off-guard that day was how friendly the Highpoint staff were. Each person would come up to me, introduce themselves, and initiate a conversation. As the day went on, it became easier for me to open up and really be myself. By the second day, I felt extremely comfortable. I could walk around the office and not hesitate to ask questions or spark a conversation with my coworkers.
Heather has done a fantastic job cultivating this work culture and encouraging everyone to be themselves. It is this environment that ultimately led to the self-growth I was looking for this summer. To be able to learn and freely ask questions without judgment was a blessing.
I am incredibly grateful for all the Highpoint staff and their bright personalities, always offering me advice when asked. I am especially appreciative of Jerry Giddens, who would always answer any questions I had despite how silly they were. Thank you to Loren, who became an outlet of comfort and compassion for the interns. I am also appreciative of Jaime and Marco, who pushed me to begin the 75-hard challenge. I could go on, but this list would go on forever! Highpoint is a phenomenal company to work at, and I thank God for being able to experience this internship this summer.
Summer Internship Program 2021